BCC Pinning Ceremony Recognizes Nursing Graduates
| | |
| --- | --- |
| 04:38PM / Wednesday, July 01, 2020 | |
---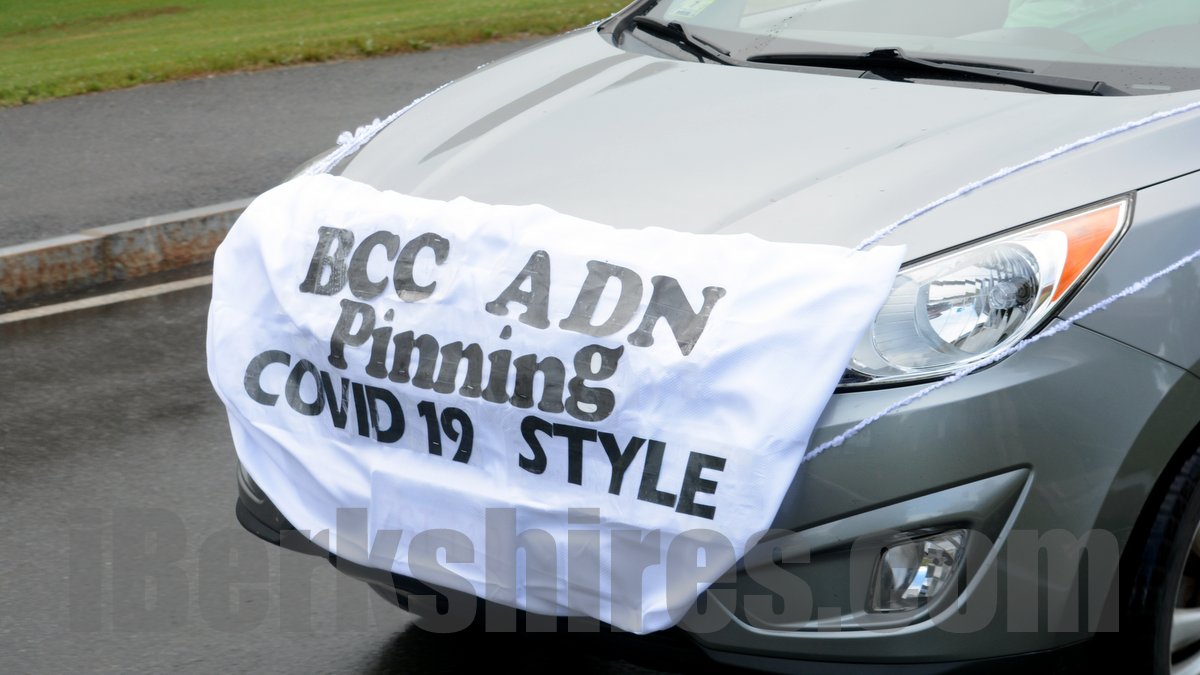 PITTSFIELD, Mass. —Twenty-seven graduates of the practical nurse certificate program at Berkshire Community College and 57 associate degree in nursing graduates were recognized on Tuesday night for a combination drive-through and remote ceremony in order to observe social distancing protocols because to COVID-19.
Ann Tierney, a nursing adviser, retired nurse practitioner and professor of nursing, addressed the practical nursing students while Lynn Geldert, with a background including critical care nursing and providing clinical instruction to nursing students, addressed the associate degree program graduates in the online portion of their ceremony.
The ceremony is a time-honored nursing school tradition, dating back before the turn of the 20th century. Traditionally, nursing students have conducted an honors or pinning ceremony to mark the passage of student nurse role to practice role. It can be an emotional event that is shared with family, friends, faculty and others important to the students' education.
On a rainy Tuesday evening, graduates in the program were invited to drive around the college's circular driveway to receive their pins, certificates and diplomas.
Graduates of the 10-month practical nursing program are eligible to sit for the Licensed Practical Nurse (NCLEX-PN) exam.
Pins and certificates were presented to the following graduates listed by town:
Cheshire: Jacqueline A. King, Shelby L. Provencher
Dalton: Carmen Y. Quinde
Great Barrington: Morgan B. Formel
Lee: Michelle A. Schleimer
Lenox: Marybelle L. Burns
Pittsfield: Ciara M. Berkeley, Jamie L. Brown, Danielle A. Collette, Holya Ebiyatakyih, Cecilia A. Ebuley, Sarah M. Engle, Anne-Marie Ezoua, Amber Hertzberg, Hahna Kim, Ama S. Koblan Epse Ngoran, Ellen Laryea, Teressa N. LeBeau, Jacqueline C. Polynice, Ernestina Sackey, Kniesha M. Tarjick
Savoy: Jennifer L. Walker
Springfield: Kadian S. Anderson, Elizabeth Twum-Barima
Westfield: Selina M. Lopez
Windsor: Jonathan R. Bailey
Lakeville, Conn.: Valencia O. Phillips
Awards were presented to the following students: Clinical Excellence Award: Sara Engle, Academic Excellence Award: Marybelle Burns, Professionalism Award: Ernestina Sackey, Spirt of Nursing Award: Jacqueline King.
The 51st annual ADN Pinning ceremony, sponsored by BCC's Student Nurse Organization, honored the following students who graduated on May 29, 2020:
Adams: Nataliya M. Houghton, Kelsy M. Nixon
Ashley Falls: Grace L. James
Clarksburg: Stephanie J. Rogers
Dalton: Courtney J. Corbett, Angelia M. Elser, Danielle. M Furlong, Elisabeth C. George, Alexi M. Liccardi, Amanda L. Nefreres, Renee M. Saville, Raegan B. Van Rumund, Shaina R. Weber
Hinsdale: Patricia A. O'Brien
Housatonic: Blythe A. Hinkley-Grady
Lanesborough: Michelle M. Gingras
Lee: Tyler V. Buratto
Leeds: Cheyenne D. Robair
Lenox: Suzanne J. Cotton
Lenox Dale: Kathryn M. Forbes
North Adams: Caitlin S. Gelineau, Nicole L. Maloney
Northampton: Ronald V. Cruz
Otis: Bryan E. Arnold
Pittsfield: Halimat O. Ahmed, Christine A. Ahoussi, Daniluz Aloyo-Hebert, Dorcas S. Archer, Michelle L. Bateman, Maribel Bednarski, Marie J. Blankson-Atte, Kortney M. Boos, Nicole M. Campos-Vasquez, Rosemary C. Carnes, Kayla J. Doyle, Alexandra M. Ely, Spencer E. Ferro, Alison E. Gregory, Amy L. Hunt, Nancy M. Klose, Jesse D. Kordana, Kelsey E. Lane, Brittany S. O'Donnell, Tomeka L. Parslow, Shila J. Vallencourt
Plainfield: Samantha M. Davis
Springfield: Luke A. Boasiako, Lucy M. Gichuhi
Tyringham: April A. Curtin
Williamstown: Alexandra W. Levinsky
Worthington: Fawn M. Mougin
Albany, N.Y.: Israel Rolly T. Muamba
Averill Park, N.Y.: Natalie E. Emery
Fort Johnson, N.Y.: Morganne T. Ottati
Millerton, N.Y.: Millie A. Trees
Portland, Maine: Andrew J. LaDouceur
Torrington, Conn.: Jack O'Meara